ANA recommended credit card for employees relocated to the United States.
This credit card is available only to ANA Mileage Club members with a U.S. address and is ideal for employees relocated to the United States with little to no credit history in the United States.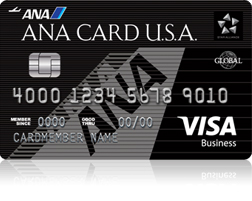 Annual Fee $70 1, and No additional fee for authorized users (Summary of Credit Terms)
Earn 1 mile per $1 in purchases (no limit) 2
Entirely U.S. dollar based, and an opportunity to build credit history in America.
Access to ANA Group discounts and Benefits
VISA is accepted globally and offers many additional benefits 3
Benefits
Receive

5,000 bonus miles

after your first purchase2

You will receive 5,000 bonus miles for your first qualifying purchase using ANA CARD U.S.A.

Extra

Flight Bonus Miles

ANA Mileage Club regular members with ANA CARD U.S.A. (Primary holder) are now qualified for 25% Flight Bonus Miles as Card Type Multiplication rate, when flying on ANA Group flights.
Please see the details on the ANA website.




Note: When using the simulator, please choose ANA Card Gold as the card type.

Or,

when ANA Premium members (Diamond, Platinum, Bronze) fly with ANA Group and/or United Air operated flights, Flight Bonus Miles ratio will be increased by 5%.


Note: This offer is only valid when primary cardholders earn ANA miles on ANA Mileage Club.
Note: This offer is valid even if you don't use the ANA Card U.S.A. to purchase flight tickets.
Note: Bonus miles may take up to 6 weeks from card issuance to reflect in your account.

Less Requirements toward

ANA Bronze member status

ANA CARD U.S.A. Primary card holders who earn 30,000 premium points or more within one year will be qualified for ANA Bronze Service membership status even if they do not meet the 15,000 points requreiment for ANA Group operated flights.
Premium points are recorded separately from ANA miles.




Priority Check-In

Enjoy Priority Check-In on ANA-operated International Flights! To receive this benefit, present ANA CARD U.S.A. at the Business Class check-in counter.

Receive

1 mile per $1 spent

on purchases2

Receive 1 mile per $1 on purchases, such as at restaurants and online stores, made with your ANA CARD U.S.A., you will receive 1 ANA Mileage Club Mile. There is no limit to how many miles you can earn! (You can redeem your miles for up to 3 years after they are reflected on your AMC account before points expire.)

10% off

on ANA in-flight purchases

Receive a 10% discount on all ANA in-flight purchases for international and domestic flights when using your ANA CARD U.S.A.

Note: Discount applied only up to 200,000 yen for international flights and 85,000 yen for domestic flights. Shopping on code share flights operated by other airlines are not eligible.
Note: In order to ensure the security of your ANA CARD U.S.A. credit card, when you make an in-flight purchase, the cabin attendant will match your signature on the back of the credit card to the purchase receipt. If the cabin attendant is unable to verify your signature or if there is no signature on the back of the card, the purchase will not be approved.


Receive

10% off

at duty free shops at the airport

Present your ANA CARD U.S.A. when checking out at the following ANA group duty free stores in the airport, and receive a 10% discount on selected items.
Applicable stores:

Narita Airport
Terminal1 South Wing ANA DUTY FREE SHOP
Terminal1 South Wing ANA DUTY FREE SHOP MEN
Terminal1 South Wing No.4 Satellite ANA DUTY & TAX FREE SHOP
Haneda Airport International Terminal
TIAT DUTY FREE SHOP SOUTH (Operated by ANA DUTY FREE SHOP)
COSMETIC BOUTIQUE NORTH (Operated by ANA DUTY FREE SHOP)
Kansai Airport
North Wing ANA DUTY FREE SHOP
Main Building ANA DUTY FREE SHOP LONGCHAMP, TUMI
Note: Some exceptions apply, such as CHANEL and Shiroi Koibito.

Receive

discounts

at ANA Hotels and ANA - IHG co-branded hotels

• When booking your stay, mention you are an ANA CARD U.S.A. member and enjoy 5% off (*1) the Best Flexible Rates at IHG ANA Hotels Group Japan. Please present your card at the front desk when you check in :
• You will also enjoy a free breakfast and welcome drink during your stay at an ANA Hotel, if you use the discount for members noted above.
>For Reservations

(*1) Discount may not apply to certain stays.
Note: Payments must be made with cash or ANA CARD U.S.A. at the front desk.
Note: The services above are applicable only when the member makes a direct reservation at each hotel or through the Tokyo Reservation Center. (Not applicable through @hotel or travel agencies, accommodation booking sites of other companies)
Note: These discounts cannot be combined with other discounts, offers and IHG ANA Hotels Group Japan Coupons.
Note: "The Welcome Drink service" is applicable only at domestic ANA Hotels Group Japan and is limited 1 drink per stay. The designated drink and place(or lounge) may be different in each hotel.
Note: Family members and guests of the primary cardholder do not qualify for discounts or benefits

Website for Hotels
>ANA Hotels and IHG・ANAco-branded hotel home page.

Receive

5% off

while shopping at ANA Group airport shops

Present your ANA CARD U.S.A. and you will receive a 5% discount on selected items at "ANA FESTA" gift shops operated by ANA Trading Co. at airports in Japan.



Note1: The discount is not applicable when total amount is under JPY 1,000 including taxes.
Note2: You may not use other coupon when the discount is applicable.
Note3: The discount is not applicable for some items of postal items, books, alcohol, tabacco, and a coffee of Starbucks shop in ANA FESTA.

See FICO® Score for free

You can check your FICO score for free by just logging on to your online banking.


Note: To build credit history in the U.S. you must register your social security number with us.
Please see the Summary of Credit Terms for important information on rates, fees, costs, conditions, and limitations.
By applying for the credit card, you understand and agree that all disclosures and other important documents related to the card that are required by law will be provided to you only in English. If you are unable to read and understand the English language, it is very important that you seek the assistance of a trusted, qualified person who can translate these disclosures and important documents for you.
クレジットカードにお申し込みいただくことにより、法律で義務付けられている全ての開示情報及びその他の重要書類が英語版のみで提供されますことにご承諾いただきます。英語の読解が困難な場合は、信頼のおける専門の翻訳者に開示情報と重要書類を翻訳してもらうことが重要です。
1 For additional information about Annual Percentage Rates (APRs), fees and other costs, please see the Summary of Credit Terms.
2 See Reward Terms and Conditions in the Summary of Credit Terms for details including earning, redemption, expiration or forfeiture.
3 Complete details, including restrictions, limitations and exclusions, will be available when you become a Cardmember.

FICO® is a registered trademark of Fair Isaac Corporation in the United States and other countries. Please note that new cardholders will generally see their FICO® Score about 2 to 3 months after account opening.
Note: You must be 18 years old or older to apply for the card. Authorized users also must be 18 or older.
Cards are issued by First National Bank of Omaha (FNBO®), pursuant to a license from Visa U.S.A. Inc. Visa and Visa Signature are registered trademarks of Visa International Service Association and used under license.